I've always been a credit watcher. Being a thoroughgoing child of TV and long-standing information hoarder, the credits at the end of the show presented an excellent opportunity to absorb and be absorbed.
Sometimes, it was just because I liked the closing theme song.
Remember when theme songs meant something? Well-written, catchy signature tunes that related…often lyrically…to the content of the show itself?
Well, it didn't end there…so to speak.
On some shows the closing credits ran over a different version of the song. Like "Alice," where a jazzed-out version of the opening music played while Linda Lavin did a little scat number.
Or, how about that rockin', kick-ass closing song for WKRP in Cincinnati?
Yes, I've looked for it in various formats. No, I haven't found it. It was actually an improv'd recording by show creator and writer Bill Dial on his guitar. Or was is Rick Derringer? Whatever…it's not really a song at all.
There were also credits that had a great production company logo at the end. As a kid with cats, I always dug this one…
…especially at the end of The White Shadow, when the kitten gets a cartoon basketball and starts dribbling.
Now that was a great close for the credits of a great show…a show that had a character named "Salami."
Which brings me to my point.
In my long experience reading credits, one name stands out…sticks out among the legions of actors and gaffers and writers whose names I've read.
Remember the dentist from The Newhart Show? Jerry?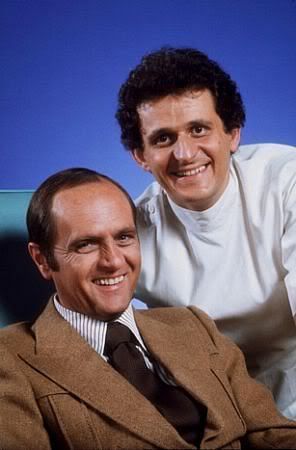 His name…
…is Peter Bonerz.
Yup. Peter Bonerz. Which is, when you think about it, a double-whammy. Do we think his parents had a great sense of humor? Is that where he got it from? No, not his Bonerz…where he got his sense of humor!
Funny, Mr. Bonerz went on to have a stellar, productive career as an episodic TV director. Did a bunch of sitcoms, like Murphy Brown, Friends, Alf, etc.
Never changed his name.
And thank God he never formed a business partnership or a comedy team with Washington Post political reporter…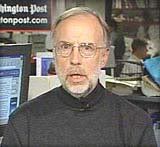 …Dan Balz.
Imagine them as a comedy team doing the Catskills. No, I will not write it out.
But reality is stranger than fiction, right?
There once was a Democratic Congressman named…
…Norm Dicks.
And another Congressman, a Republican, named…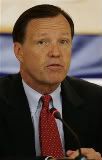 …Christopher Cox.
To investigate the Chinese fundraising scandal of the Clinton years, they formed the bi-partisan…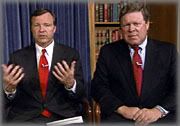 …Cox-Dicks Commission.
Seriously. I am not kidding. Could that name have been any better for a Congressional investigation of Bill Clinton?
The only name "better" than that? Peter Bonerz.
So…next time you are watching re-runs, sit through the credits and maybe you will make a discovery…see something or someone you can connect to something else. Like the fact that Ivan Dixon from Hogan's Heroes…

…directed numerous episodes of my two favorite shows; Magnum, P.I. and The Greatest American Hero.
You see, it's all in the credits. A world of truth and knowledge.
Whatever the name…it is there.
It's one place where TV cannot…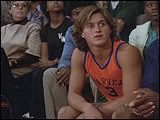 …hide the Salami.
Tweet