When you grow up as an only child, and a bizarrely precocious one at that, you have to come up ways to get feedback…to interact…to make friends. And if the homefront is a bit stormy, with little input or much in the way of role models, the ante is upped. You gotta look somewhere.
Or listen.
I listened. To music. My whole life.
Growing up with Jersey Italians born before WWII, I had the requisite doses of Perry Como, Louis Prima, Paul Anka, Herb Alpert, Dean Martin, Frankie Valli, Connie Francis…the usual stuff you hear when hanging out at Uncle Sonny's place, or at Anita and Jack's house as the adults played Canasta.
And then there was AM radio.
So, over the years I listened to and befriended song after song after song as they flowed out of AM radios all around me. Songs were friends. Songs were guides and role models.
From a very early age I had an AM radio…often with me. And often I went to bed at night listening to it, dozing off to a pop music soundtrack. Or I used rubberbands to strap it to the handlebars on my bike. And then I got the killer AM/FM/8-track player boombox for my Eighth birthday. Whoa! I was fully armed.
Straight up, almost everything I learned about life came from songs or TV shows. That was it. I was basically alone…left to my own devices…and my devices were radios, stereos and TVs.
Yeah, I know. Explains a lot, huh?!
Anyway, I was listening to a CD I'd burned about seven years ago and it struck me…the songs on that disc were many of the songs that "taught" me about love. I mean, I've had a visceral reaction to these songs since the first time I heard them. Still do. And I have an intellectualized ideal for each song. Some have come true. Many, in fact. The emotions they bring up take me back to those days before I actually had the reality of love, romance and women, just the ideal and the fantasy.
Is this how I learned about love?
Yikes.
So here is the list of the TOP TEN most influential songs about love that shaped me in childhood. Yikes, reprise!
Note that 1981 is the last of 'em, because my tastes were changing and soon I would put AM behind me in favor of a whole lotta punk, post-punk and new wave.
Roxy Music, of course, is not on this list…but would top any top ten list that spanned my whole life. Many other songs and artists continued to influence me over the rest of my life, but not the way these songs did. No, after I got doses of reality…the ideal-shaping qualities of songs were not quite as potent as they were in my childhood. Songs became elixirs and, too often, salves.
But this is about the formative years.
I'll bet you have a list, too. Just take a moment to reflect on those songs that influenced you. Travel to the backseat of the family car…or to an outdoor barbecue in the summer…and hear those songs again.
Here are mine, in order:
1) Reminiscing (1978), Little River Band:
"I want to make you understand, I'm talking about a lifetime plan."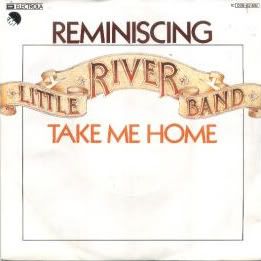 Great melody, a hint of conga drums. A love that lasts well into old age. Perfect song.
2) Dreaming of 4000 (1973), E.L.O.:
"Feel the soul, quiet emotion. Sail on by, helpless devotion. If that's how it feels, it better be real. Take care of your woman, or you'll never ever see the light. Take heed of the warnin', or you know it's going to be too late."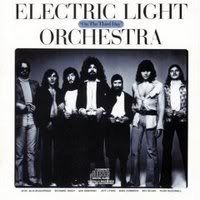 The impact of these lyrics on my 8 year-old psyche were indelible, and prescient. The music is way dramatic, too. An ideal of almost painful love flowing from a portable 8-track player! Yikes.
3) Biggest Part of Me (1980), Ambrosia:
"Make a list baby, of things I'll do for you. Make a wish baby, and love will make it come true. Ain't no risk now, lettin' my love rain down on you. We can wash away the past, so that we can start anew."
Hey, back off…yes, Ambrosia. No, you will not find Air Supply on this list…so let me have this one. And yes, the cover is…umm…well…
4) Hearts (1981), Marty Balin:
"Do you ever think of me and how we loved one another? Will you change your mind? Will you want me back again, or have you found yourself a new lover?"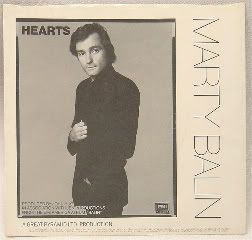 Heartbreak, summed up and sung with an amazing range of sad notes. My early obsession with this song was, perhaps, a harbinger of things to come.
5) Right Down the Line (1978), Gerry Rafferty:
"When I wanted you to shape my life, I had no doubt in my mind…and it's been you..woman…right down the line."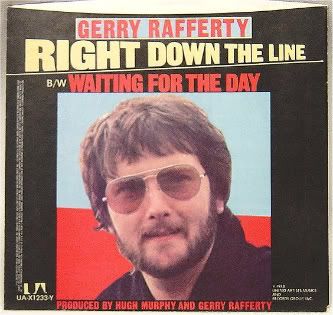 One of those songs you're desperately hoping to find a object for…and I did. For a while.
6) Misunderstanding (1980), Genesis:
"Since then I've been running around trying to find you. I went to the places that we always go. I rang your house but got not answer. I jumped in my car, I went 'round there. I still don't believe it, but he was just leaving."
Obsessed with this song at age 10-11. Got a K-Tel with this song on it, and this song would become extremely relevant over the years…a couple times.

The K-Tel album also had Cars by Gary Numan and Call Me by Blondie. At the time…a formative bit of vinyl.
7) Sweetheart (1980), Frankie and the Knockouts:
"Yes I know…no matter how long. I'll be your side, yeah, singing this song."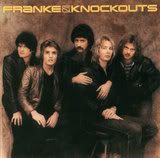 Another song in search of an object (haven't found this one), brimming with affection and almost sorrowful notes and melodies. Also has the line "who loves you baby." That may be where I picked up the habit of walking around school, snapping my fingers…pointing…and saying "Joey loves ya, baby." Or was that from Kojak?
8) I Can't Tell You Why (1979), The Eagles:
"Every time I try to walk away, something makes me turn around and stay."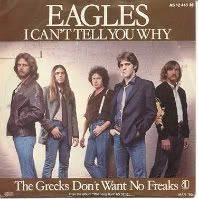 One of the best "breakup…no…back together" songs ever. Stunning bass line, Timothy B. Schmidt on vocals…this song was his one breakout from the Henley-Frey egofest. I can listen to it over and over and over.
9) Day After Day (1972), Badfinger:
"Looking out from my lonely room, day after day. Bring it home, baby…make it soon…I give my love to you."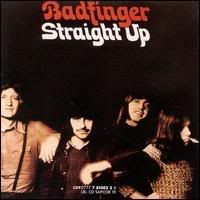 Back of the car, as a wee lad listening to Top 40 radio…left an strong imprint that still resonates.
10) After the Love has Gone (1979), Earth, Wind and Fire: "Something happened along the way, and yesterday was all we had."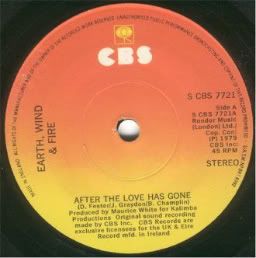 First time I heard it was on WKRP in Cincinnati, Venus spinning it at the end of an episode. Another breakup-loss emotional pattern established thanks to Maurice White and the Boys. Still makes me stop whatever I am doing to listen.
Tweet